With Christmas right around the corner, it can feel impossible to find the perfect gift for your loved ones. Everyone prefers different gifts whether that be a physical gift, quality time, etc. Instead of stressing about what to get, use this gift guide to help you find the perfect gift for your loved one this Christmas! This gift guide gives you gift ideas along with ideas that don't require you to purchase an actual gift as well.
Physical gift ideas
Key finder
Getting your loved one a key finder might be the most practical gift ever! Everyone has been in the situation where they lose their keys and can't seem to find them anywhere. The key finder is very quick and easy to use and set up. To use, hook this onto your keys and download the app which will have the location of your keys. In addition to keys, you can purchase and use finders for any other objects that you lose often. With a key finder, you'll never have to worry about losing your keys again!
Digital photo frame
Pictures are always so much fun to look at and reflect on memories! If your loved one loves pictures, consider buying them a digital photo frame. Digital photo frames rotate through a bunch of pictures throughout the day. All you have to do is download pictures onto the photo frame, and your work is done! Getting your loved one a digital photo frame can keep them entertained, remind them of memories, and of course for them to show off to their guests!
Family tree
As your family continues to grow, it can be hard to keep track of everyone. Since your loved one is now retired and not as busy as they used to be, they now get the luxury of sitting back and listening to their families talk about their busy lives! Your loved ones enjoy getting updates from the family and to hear about everything that's going on in your lives. You'd be surprised if you heard how much your loved ones talk about their family and what they're up to. If you have a big family, putting together a family tree photo collage is the perfect gift. It can help your loved ones easily remember what family member belongs to what family. This way, it makes it easy for them to show guests their entire family instead of trying to explain it without a chart.
Cooked meals
There's truly nothing better than a home cooked meal. As you age, cooking turns into more of a chore rather than a fun activity. Treat your loved one and cook some of their favorite recipes or dishes that bring back good memories. You can either make a couple meals and bring them to your loved one or make a cooking day out of it. Cooking together can be a fun activity for the both of you and bring back many memories!
Massager
As you age, your body isn't the same as it used to be. Muscles seem to tighten up more often than they used to and it's easy to tweak anything just by bending over. In addition to your body aching more, your body also cramps up much easier as well. To help your body work through these things, you need to relax your muscles. Have your loved one do a mental body scan of their body to find where they hold the most tension. Once they find those areas, help them loosen those muscle areas. To help them do that, gift them a body massager. You can find many different types of massagers online or in any store. You can even buy them a gift card to go get a professional massage as well!
Movies & books
Movies and books are great gifts for anyone! By gifting them a book or movie, this gives them time to take for themselves to relax and truly enjoy what they're doing. This gives them the opportunity to escape the real world and keep their minds busy. Try to find movies that they used to watch to spark some memory! You can even make it an afternoon event by making dinner and watching a movie with them. Taking your loved one out to go watch a movie at the movie theater might also be a fun activity for them.
Coffee machine
If your loved one loves coffee and could go all day drinking it, I've got the perfect gift for them! Get them a single serve coffee machine! Purchasing a single serve coffee machine reduces the amount of wasted coffee and is very easy to use. If your loved one really enjoys coffee, gift them a coffee machine in general. There are many different coffee machines that you can pick from. Instead of regular coffee, you can also treat them to different flavors when gifting this to them.
Remote control
TV is something that many enjoy since it's easy/cheap entertainment. Watching TV keeps your loved one in touch with the world and gives them something to do. The buttons on normal remotes are small and can be hard to read. In addition to that, remotes can be very confusing and turn an easy task into a difficult one. There are easy remotes that you can replace their old ones with. The buttons are much larger and all the buttons are clearly labeled.
TV headphones/special hearing aids
Hearing can become more difficult as you age. If you find that your loved one either turns the TV up to the loudest possible volume or struggles hearing in general, look into getting TV headphones. These headphones wirelessly connect to the TV which allows your loved one to clearly hear the volume from the TV. In addition to TV headphones, you can also get hearing aids that can connect to almost anything! You can connect them to your loved ones phone, TV, and much more!
Battery operated anything!
As you age, getting objects open becomes harder and seems impossible at times. One of the best gifts is a battery operated jar opener. All you do is place the opener on top of your can, sit back and watch it do all the work. Think about all of the different objects that you open throughout the day. If you made a list in your head, you quickly found out that you open many different things without even thinking about it.
---
The Gift of Giving
From the heart
If your loved one is the person who "has everything" try gifting them something from the heart. A homemade gift from you and your family is probably exactly what they want and need. If you have children, ask them to make some crafts to give to their grandparents this year. Another option is to put together a photo album. You can start with baby pictures of them and continue on throughout the years. This can be a great gift because it allows them to reflect and look at their life through a different lens. In addition to a photo album, you can also make a family photo calendar and add important events on it. As you continue to age, having things to look forward to is very important. By doing this, it keeps them going and in tune with the day's/week.
Gifts that keep giving
Although gift cards can be generic, they are a very reasonable gift. Get them a gift card to their favorite place or make a spa day out of it! Getting them a gift card gives them the freedom to purchase whatever they want. This way, you can bring them shopping and allow them to browse any store that they want. This doesn't only give them the option to pick out different items, but also to spend quality time with you. Another gift card option would be for a restaurant that they enjoy. This way, you can enjoy a nice dinner at their favorite restaurant. This gives you a chance to sit down and enjoy each others company.
Quality time
The greatest gift that you can give someone is your time. Life can become so busy and before you know it, the things that mean the most to you can easily fade into the background. Taking time to continue to build your relationship with our loved one is so important. Devoting your time to others is a gesture of kindness and love. It not only makes us feel good but also positively affects others as well. I hope your holidays are filled with love, laughter, and joy! Happy Holidays to you all!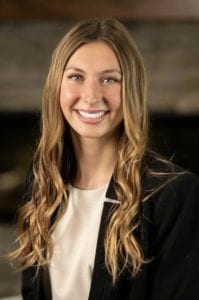 Best,
Danielle Morrow
Marketing Specialist