When I asked Diane about her life story the first thing she said was, "Wow my life was so jammed packed with everything". She described how in school her hand was always up answering questions before the teacher could even ask the question. She was the student that was so advanced that the teacher would send her to go help the other students whenever they had questions. Diane said, "I wasn't too nerdy, actually no I was" and started uncontrollably laughing. She loved to learn and knew exactly what she wanted to go into for her future job. She knew the technology field was perfect for her since she wanted something that was challenging, yet always evolving. Diane got involved with software the same time that Bill Gates was entering the early stages of technology as well. The software system that she was promoting continued to expand which she said was such an exciting time to be involved in the technology world.
Travel
Besides working, Diane got the opportunity to go visit places around the world. One travel memory that she loves was when she got to visit the country of Jordan in the Middle East sponsored by the Rotary Club. During her time in Jordan, her and another member of the Rotary Club had gotten to stay at different houses. Diane loved having that experience as she explained, "It was interesting staying at different houses and seeing how people lived based on their status rather than by the amount of money that they had". She also talked about what an honor it was to be able to have the opportunity to visit Jordan, especially as a woman. She talked about how they had to take extra precautions as women wherever they were going and how they always had to have a male with them no matter where they went. She felt that it was still such an amazing opportunity even though they went at such an interesting time period. She loved traveling and being involved in everything she could get her hands on since she loves having a purpose.
Family
Diane has always been a family orientated person. Diane had two sons and said she loved every minute of parenting. When describing her family, Diane said, "Both of my boys are different in many ways, but we all seem to have the same idea about serving the community and being good parents". Diane stated, "My favorite part about being a mom is that it's so organic". Being a mother came natural to her and she felt that she did a great job at balancing work and being a parent. One of the biggest challenges she had was when there was a problem, she always wanted to come in and try to help fix it. If you get to meet Diane, you will quickly be able to pick up on how much she loves her family and especially her grandchildren. She said she has 3 and ½ grandchildren. After making that comment, she started laughing and described that she has one on the way that she cannot wait to meet! Her favorite part about being a grandmother is that the grandchildren always love the grandparents since they don't tell the kids what to do. She said, "The grandchildren can do no wrong so we can get them all hyped up and then send them back with their parents".
Woodstone
Diane is such a social butterfly, especially at Woodstone. Her first comment about Woodstone was, "There's just good people here and they are all simply amazing in their own way". She explained how each person that lives here all have interesting stories about what they've experienced throughout their lifetime. One thing that stands out about the Woodstone Active Living Community is the location and the design. She loves the comfort yet clean appearance that the community has. Something else that she enjoys about living here is the nature that she can see from her room. Besides nature, she thinks it was a genius design to have the church right behind the community. Her and a lot of the other residents love watching all of the children play on the playset and run around everywhere. Having all that action close by gives her and the other residents a sense of activity without having to even do anything! Another comment that Diane made was, "A lot of the other senior living communities are pretty quiet, but here there is always something going on and we always have things that are happening".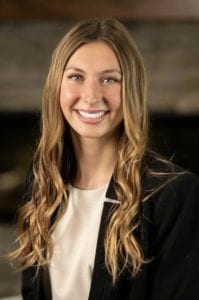 Best,
Danielle Morrow
Marketing Specialist