At Woodstone, every single employee has a significant role. As for our Executive Directors, they oversee the entire community. Meet Woodstone of New Ulm's Executive Director, Brittany Gulden.
What is your role as an Executive Director?
My role as an ED is responsible for the day-to-day operations of our facility. Managing staff and maintaining a community that is conducive to the wellbeing of all residents, handling the facilities budget, implementing plans to maintain occupancy, and build positive relationships within the community.- The job looks different almost every single day and that depends on the community and the current needs of our team and our residents.
How long have you been at Woodstone & as an Executive Director?
I have been a Director at Woodstone for 3.5 years 😊
Why did you choose this career?
I have been involved with long term care in the elder adult community since I first entered the workforce. While pursuing my degree, I completed a Nursing Home Administrator internship. This experience solidified my career path by providing a behind the scenes view of the healthcare system; specifically working in healthcare administration in the elder adult community.
What is your favorite hobby outside of work?
I honestly don't have "many hobbies", but some of my favorite pastimes are spending quality time with my dog(GiGi), and my family, I love to shop(you can find me at Target, TJ Maxx, Hobby Lobby and Scheels), I enjoy going to hockey games, and exploring local restaurants and breweries in our area.
Favorite memory at Woodstone?
I have so many favorite memories here at Woodstone. If I would have to pick one, I think it would be hosting our family picnic and events for residents and their families (Pre-Covid). There is nothing better than seeing everyone together with their loved ones and being able to enjoy each other's company. I am hopeful we can get back to that in the near future. 😊
What makes Woodstone a great place to work?
Family. In the last few years that I have been employed with Woodstone I have made it a personal goal where our building is welcoming and compassionate to those who come in. When new team members or incoming families are considering our community, I ensure that we promote togetherness and openness within our team. We have built an internal culture here that encompasses the idea of becoming one big family. This has created a trustworthy team and living environments for all employees and residents. It is truly special to see the bonds that have formed between residents, employees, and even extended family members. We love our Woodstone Family.
If you have any questions for our Executive Director, please feel free to reach out to her at any time!
Contact Information:
Email: [email protected]
Phone: (507) 359-3355 Ext. 1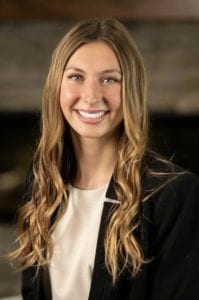 Best,
Danielle Morrow
Marketing Specialist