At Woodstone, every single employee has a significant role. As for our Executive Directors, they oversee the entire community. Meet Woodstone of Rice Lake's Executive Director, Greg Loiselle.
What is your role as an Executive Director?
I wear a lot of hats in my role as Executive Director. My main responsibilities are leading the overall direction , administration and management of all aspects of the facility. Making sure we are marketing productively and ensuring our census is maintained at a high level. I believe strongly in servant leadership. At any given moment I may be involved in building maintenance, housekeeping, billing, resident activities, food server, kitchen assistant or junior IT guy. 😊 In a nutshell my job is whatever is needed to be done at that time.
How long have you been at Woodstone & as an Executive Director?
I joined Woodstone Rice Lake in April of 2020, so 1 ½ years. I was hired on as the Executive Director after having worked in the business and customer service world over the last 20 years.
Why did you choose this career?
You might say the career picked me. I was approached about the job and encouraged to interview after the previous Director left, and my Wife was doing the job as Executive Director and Director of Health Services RN at the same time. I wasn't sure what to expect at the time. I had a job I liked and was comfortable in and wasn't looking to make a career move. It turns out it was the best decision I've ever made!
What is your favorite hobby outside of work?
I have several hobbies I like to do to de-stress after a day at work. I enjoy Fishing, Boating, and relaxing up at our seasonal Camper in Northern WI. In the winter I enjoy Ice fishing, as well as Candle making, and making wooden ball point pens on my Lathe.
Any fun facts about you or secret talents you have?
Fun Fact. I am an amateur Bee Keeper. I have tens of thousands of Italian honey bees I keep in 2 hives on our property. I like to sit and watch the bees going in and out of their hive with pollen, Its been incredibly interesting learning about the different jobs and life cycles of honey bees.
Favorite memory at Woodstone?
Would most likely be our flag dedication ceremony at the facility last year. All of our residents, a bunch of families and outside community members were present. We had the local VFW color guard help with the commemoration and had a nice article written about it in the local paper. It was a truly special event that our Veterans and many other residents still talk about.
What makes Woodstone a great place to work?
The people and relationships. Residents, their families and our staff. We strive to achieve a family type atmosphere here at Woodstone Senior Living. That family feeling is at the core of everything we do on a daily basis. It's simple and it works. It creates happy Residents and families that are vested in the facility and are our biggest advocates in the community. Our staff is loyal and tenured which allows those relationships to grow even further with our residents and families.
If you have any questions for our Executive Director, please feel free to reach out to him at any time!
Contact Information:
Email: [email protected]
Phone:
P: 715-736-6063
F: 715-736-6065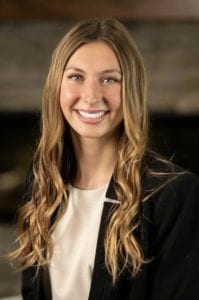 Best,
Danielle Morrow
Marketing Specialist