Background
Lynn grew up in Spearfish, South Dakota which is located on the western edge of the state. She loved the small town feel of Spearfish and said that the town just felt like home to her. She graduated high school in 1958 and left to continue her education at Colorado State. She explained that this was a big change for her since she came from a small town and that's all she has known her entire life. After moving she said, "I was used to small towns, and this was not a small town at all". She decided one night to go out to a dance that her college was putting on. She ended up meeting her future husband, Robert. Robert ended up getting his degree before Lynn and they both agreed to move away and start their lives together. Robert told her, "I've been through it all, you don't need your degree". He went on to be a school teacher, and Lynn would find any job that was available wherever he was located. She had jobs as a bookkeeper, city clerk, etc. One of the biggest differences that Lynn had found was that the working world treats women a lot differently now compared to how they used to. She believes that women are a lot more assertive now and stand up for what they want. Back then, you would never hear a woman say "I can do it". She's so proud that women today finally have the freedom to be assertive and stand up for what they believe in.
Family
As time went on, Lynn and Robert decided to have three children; Pam, Bonnie, and Michael. Lynn then transitioned to a stay at home mother and took care of all of the kids while Robert continued to work. Her favorite part about being at home was that she had freedom to bring her kids to sports and their extra curricular activities that they were involved in. As the kids got older, she continued to work odd jobs to contribute to the family and continue to do her part as a mother and a partner. She said that her main goal was to, "Help her kids learn life skills so they knew how to conduct themselves later on in life".
Retirement
After working their whole lives, Robert and Lynn decided to retire. Robert retired but Lynn said, "As a wife and a mother, I never got to retire". Robert and Lynn did a bit of traveling right after retirement but wanted to make sure that they stayed very involved with their children, school, music, and their church. After a while they decided that they wanted to switch up their scenery so they moved to Arizona and stayed there for about 20 years. Robert and Lynn had their fair share of dogs and cats throughout their lifetime and were at the point where they were ready for grandchildren. Lynn said that they wished for grandchildren and all of a sudden got grandchildren, more grandchildren, then even more grandchildren! Lynn and Robert loved spending time with all of the grandchildren in the family and watching them grow as they aged.
Woodstone
After enjoying retirement for a while, Lynn's husband Robert passed away from cancer. After he had passed away, she wanted support from her family and decided to move closer. One of the biggest things Lynn was looking for in a senior living community was that she would still be granted freedom. What she loves the most about Woodstone is that they offer different activities that her and all of the residents can choose from. One of her favorite activities at Woodstone are the crafts. Lynn said, "I haven't done too many crafts in my lifetime and I feel like it's such a great opportunity to explore my potential in that area". She thinks that Woodstone is such a nice place and loves all of the people she's met here.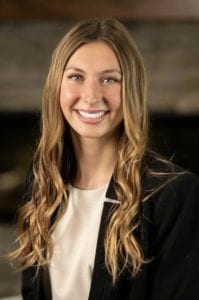 Best,
Danielle Morrow
Marketing Specialist