Happy National Activity Professionals Week! This week is dedicated to the Activity Professionals who continuously share their creativity, enthusiasm, compassion, talents, and love with others. At Woodstone, our Community Life Coordinators are the backbone of our community. They help all of our residents live a life that is full of exciting and meaningful activities. Meet Woodstone of New Ulm's Community Life Coordinator, Crystal Uys.
---
What is your role as a Community Life Coordinator?
As the CLC, I plan activities and outings for the residents. These include setting up entertainment and educational presentations, wellness and spiritual interactions, volunteer opportunities and community outreach, social and creative activities, and creating a fun and uplifting environment for the people I serve.
What led you to this career?
I worked as an In-Home Child Care Provider for seven years. My own children were growing up and starting school and I was looking for something new outside of the home. A friend of mine told me about this position, so I took a chance!
What is your favorite part about being a Community Life Coordinator?
My favorite part of being the CLC is being able to share in the experiences with our residents. There is nothing better than bringing smiles and joy to others.
What is your favorite thing you've done with the residents?
It's so hard to choose just one, but my favorite experience was taking some of our retired farmers for a tour of a dairy farm. It had been many years since most of them were on the farm, and to see their smiles was priceless.
Crystal tries to find activities for each resident's interests and hobbies. She likes to listen to the residents and learn about their pasts and tries to incorporate those activities at our facility. Crystal creates a variety of opportunities for the residents to keep them engaged in and making sure a person has the correct "fit" with activities. We love to see our residents happy with doing activities they love and Crystal does just that. She is willing to make their "dream activity" come true – Brittany (Executive Director)
What sets our activities group apart from others?
Woodstone is a smaller community, and I think what sets us apart from others, is our ability to focus on each individuals likes, hobbies and interests, and find activities that suite them the best. We really stand by the saying, "Your family becomes a part of ours". We pride ourselves on really connecting with our residents and their families.
Any fun facts or secret talents you have?
My talents aren't really a secret around here. I'd like to consider myself a Jill of all Trades. It's very possible that you'll see me doing some handy work around the building. I'm always up for a challenge and sometimes find myself wearing a few different hats.
What do you like doing outside of work?
Outside of work, I enjoy working. I help my dad with his lawn care business and work weekends at a butch shop. I always make time for my kids and my family. When I finally make time to relax, I enjoy reading, crocheting, and crafting.
Why Woodstone?
I have developed some really amazing relationships here at Woodstone. I am so grateful to work in a fun and family oriented company. I love being able to share my time with so many wonderful people.
---
We are so incredibly thankful for our Community Life Coordinator. They are constantly putting others before themselves. They do so much for our community and residents and that never goes unnoticed. Thank you for all you do!!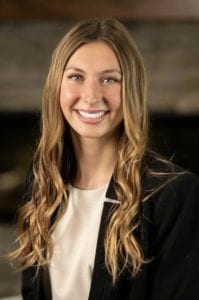 Best,
Danielle Morrow
Marketing Specialist