Happy National Activity Professionals Week! This week is dedicated to the Activity Professionals who continuously share their creativity, enthusiasm, compassion, talents, and love with others. At Woodstone, our Community Life Coordinators are the backbone of our community. They help all of our residents live a life that is full of exciting and meaningful activities. Meet Woodstone of Hutchinson's Community Life Coordinator, Dannale Krueger.
---
What is your role as a Community Life Coordinator?
My role is to try to keep our residents busy and to come up with new ideas that they will enjoy. During these difficult times right now, we do not take the residents outings in order to keep them safe from everything going on. As a result of that, I have to be open minded to a lot of ideas. In addition to activities I also have one on one times with residents so that they can talk and have social time.
What led you to this career?
Years ago, I had been a nanny to triplets for three years. After that, I moved on to be a two year old day care teacher to twenty-two little ones. I then moved onto the food business where I was at for 18 years. I knew it was not what I wanted. I found that I enjoy caring for others whether it be young or old. My daughter was actually volunteering at Woodstone and kept telling me to just try it out. I became a care provider in December of 2019. I had never done this type of work until that first day. At first I was real weary about the whole thing but after about a week or so I knew this was something. The pandemic hit soon after I started. In order to keep our residents safe, we had to lock our doors. I then started getting real close with the residents. I knew they needed something. So as I would work with them I would become goofy, fun, make them laugh, dance around, sing out loud, wear silly hair do and fun pants. I noticed it made them happy. Which in turn, made me happy. I knew this was what I wanted. I wanted to be here to console residents, bring a smile to their face, listen to them laugh,and keep them busy. I would not change anything. This is where I belong.
What is your favorite part about being a Community Life Coordinator?
The smiles, the giggles, and the trust that the residents have in me. I get to be a part of their life with even more than caring for them. Which I still do!! When I am not in as Community Life Coordinator I will still go on the floor and be their care provider.
What is your favorite thing you've done with the residents?
There are a few. One being when we could go on outings I would get the residents in the bus. The bus would start moving and then I would get my handy dandy speaker out and play music. Residents would laugh and sing along with me. Or that time they all agreed willingly to put our exercise song on "Elvira" and they wore their cowboy hats and bandanas. And of course I had to dress like a cow with my own boots on. It made it so much more fun. But hands down when we had our Luau! Since we couldn't have large groups inside, this gave me the great idea to have an outdoor party. My wonderful co workers from management to care providers to kitchen made this day AMAZING!!!! Honestly could not do all this without any of them.
Dannale is so creative and is consistently thinking of new ways to enrich the lives of our residents. From theme days to learning new dances, art classes and music, you can tell she really cares about what she does. She engages their minds, their bodies and their social connections. She is a valuable part of our community and we are so thankful she is part of our Woodstone family! – Jill (Executive Director)
What sets our activities group apart from others?
At this time, residents do not want to sit and just do bingo or play crosswords or word find. We cant just go to the movies, or a restaurant, go bowling or a mall. Granted residents love to do these things. I have to think outside the box. Try to bring the outside to the inside. Get ideas FROM the residents and try different activities out. I like to bring them things that they don't normally do but they enjoy. We are always trying new things, and if they don't like it, then we change it. I am always keeping them on their toes and have them curious about what is coming next. The best feeling is when you have residents hunting you down by a certain time to find out what is on the agenda for the day.
Any fun facts or secret talents you have?
For the 18 years I was in the food business, I traveled everywhere because we had multiple food trucks. My secret talent is that I can go to sleep within two minutes of my head hitting the pillow. Another secret talent is that I can make my eyes jiggle! I also used to be real shy and could hardly talk to anyone without panicking.
What do you like doing outside of work?
Definitely being with my family. Having family dinners with my husband, daughter and her boyfriend, my son and his girlfriend, and of course my beautiful granddaughter. Anytime with my family is wonderful day.
Why Woodstone?
Woodstone is my first place to work in this line of work. I couldn't leave. Woodstone is like a family. Everyone helps each other out. There is great management who understands and listens to you. The teamwork here is wonderful. Why would I choose anywhere else. This is my home and this is where I belong. God brought me here to Minnesota for a reason. And I truly believe it is because he wanted to show me my real calling. Helping others truly makes me happy.
---
We are so incredibly thankful for our Community Life Coordinator. They are constantly putting others before themselves. They do so much for our community and residents and that never goes unnoticed. Thank you for all you do!!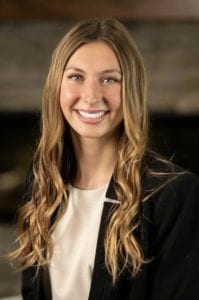 Best,
Danielle Morrow
Marketing Specialist