In honor of National Nurses Week, we want to take the time to honor our nurses at Woodstone. Nurses perform some of the most difficult tasks and serve as the first point of contact for most of our residents. National Nurses Week honors their sacrifices and reminds us to thank the medical professionals who keep us healthy.
Interviews:
Morgan Gulden
What is your role as a Clinical Nurse Supervisor?
My role as the Clinical Nurse Supervisor is overseeing anything that entails the resident's health and the care provided to them. I ensure that the health and safety of all of the residents are met through observations and assessments on site and phone triage. Some examples of that are; routine assessments of residents, preparing/following up with appointments, initiating new orders by providers, drawing blood for lab work, medication management set up, staying up to date with MDH guidelines, monitoring symptoms and triaging emergencies in residents. I do a lot of communicating with medical providers and family members if there are health concerns or updates as well. I also ensure that all of the staff are trained properly before they begin working on the floor and that they stay up to date with cares provided, policies and procedures and any new tasks that come up while they provide care to the residents. I work alongside the Executive Director when planning new move-ins and staffing needed for the cares that are provided. I also try to educate the staff on the different types of health issues we see here so they can have a better understanding of what and why they see the things they see here.
How long have you been at Woodstone?
My career at Woodstone started back in 2018 when I began working here as a care provider while I was finishing nursing school. I mainly worked in the memory care unit at that time and it was an area I knew I needed to be in as a nurse. I was out of the building for about a year when I became a registered nurse and then I came back as the Director of Health services in the beginning of 2021.
Why did you choose this career?
I chose nursing as a career because it is very rewarding and I enjoy helping others. I especially enjoy working with the elderly community and find great joy in being a part of their lives. I also enjoy sharing my experiences and education with others and love the aspect of teaching and training the staff here.
What is your favorite hobby outside of work?
I enjoy hanging out with my family, friends and dogs. When the weather's nice I love taking my dogs Luna and Minnie for long walks and playing outside with them. I love animals as well, growing up I showed goats and pigs. On our farm we have had chickens, cats and geese! Hoping to expand that in the future with some goats and a donkey. I enjoy reading, puzzles, watching TV and listening to true crime podcasts!
Any fun facts about you or secret talents that you have?
I don't really have any secret talents that are interesting. A fun fact about myself is that I am expecting a baby boy and he will be here in July and I am looking forward to a new role as "Mom" and the experiences that it will bring.
Favorite memory at Woodstone?
Nothing beats working with residents who have a dementia/Alzheimer's diagnosis and turning on popular music from their era and watching their eyes light up as the memories come back in their mind and they begin singing or humming along. Polka music usually does the trick for this group of Germans! Our bigger events always imprint wonderful memories to me as well. Bringing families together to make memories with their loved ones and watching our staff interact with them just warms my heart.
What makes Woodstone a great place to work?
We strive to promote a family style approach to our facility. We are a smaller facility that allows us to take the time in providing care and spending individual time with our residents. This gives us a great opportunity to learn more about them and implement those things throughout our day. We all work together to make things happen within the building, someone is always willing to help out their co-workers when needed. We have a great group of staff here who truly love and care for the residents that live here and it shows when you talk to the residents or their families.
---
Silke Schwark
How long have you been at Woodstone?
I started working for Woodstone Senior Living in October of 2019 as the Lead Care Manager and just finished my LPN Nursing Degree.
Why did you choose this career?
In my early teens I started to volunteer in a retirement home and worked alongside my mom in an adult day care type setting. I knew then that my heart was in Gerontology. Working in Assisted Living gives me the opportunity to work closely with our Residents on a daily basis and care for their long term needs.
What is your favorite hobby outside of work?
I love wood burning in my free time and being outdoors. I live on a small hobby farm where I grow my own vegetables and fruit.
Any fun facts about you or secret talents that you have?
Was born and raised in Germany and moved to Minnesota in 2016. It is fun to speak to some of my Residents in my native Language and hear how some of them grew up with German traditions.
Favorite memory at Woodstone?
There is not one in particular but multiple. Every Resident has their own personality, history and experience and it is such a pleasure to get to know each and every one of them. It gives me such joy thinking about all the smiles and stories we share here at Woodstone Senior Living with our Residents. If I would have to pin point it down to one, my favorite would be our Christmas Celebrations we have with Residents, Families and our Care Team.
What makes Woodstone a great place to work?
We are a smaller facility where Care Providers and Management have the ability to get to know each Resident on a personal level and provide individual centered care. Our Care Providers take pride in working with each person that resides in our Facility.
---
At Woodstone, we are so thankful for their kindness, support and compassion during time of uncertainty our residents. All nurses are simply incredible, thank you for everything you do for our community! Thank you to all of the nurses out there who are literally putting their lives on the line for people! We appreciate every single one of you.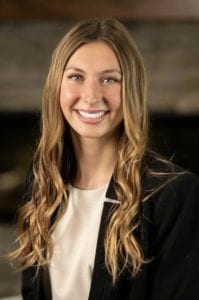 Best,
Danielle Morrow
Marketing Specialist