In honor of National Nurses Week, we want to take the time to honor our nurses at Woodstone. Nurses perform some of the most difficult tasks and serve as the first point of contact for most of our residents. National Nurses Week honors their sacrifices and reminds us to thank the medical professionals who keep us healthy.
Interviews:
Audrey Loiselle
What is your role as the Director of Health Services, RN?
The role of Director of Health Services here is one of many hats. I cover the nursing duties, keep up communication with families, process doctor orders as well as any needs and requests of the residents to their doctors, do assessments and admissions of new residents, put together all the care plans and update them anytime changes occur and also annually, cover all the trails of health care out there on my residents, work with managed care companies on putting health plans in place, oversee all medications and process any changes, work with pharmacy, do incident reports and follow ups, implement and file staff training, work together with the director on resolving staff and resident issues, keep up on state regulations and make sure they are in place in facility and files, deal with insurance issues, etc. Work with hiring new employees and reaching out to prospects for moving in. Occasionally clean a litter box or pick up random items at the store for residents. Pitch in on the floor as needed if staff is short-handed. I am on call a lot; I do have a wonderful sidekick on-call RN who takes most weekend calls now and picks up Monday for me so I can work from home on care plans and staff training. She has saved my sanity by doing that and my medication evaluations and fall reports.
How long have you been at Woodstone?
4 years this May
Why did you choose this career?
I have worked in other areas of nursing, but always returned to the elderly. This demographic is where my heart lies and where I plan to continue to practice.
What is your favorite hobby outside of work?
Cooking, gardening, and caring for our chickens, weekends at the camper, and above all, hanging out with my fabulous husband and 8 children.
Any fun facts about you or secret talents that you have?
Grew up on a dairy farm, milking cows and doing fieldwork. I can tie a cow to a post in 10 seconds flat. I love to whistle. I have a shotgun and a pistol and my aim isn't half bad. I like to shoot squirrels and the occasional crow if I can outwit them. Any time I am not at work I'm barefoot. I grew up Mennonite so I can sew a dress, even though I don't enjoy it. I was a daddy's girl growing up, always outside and in the barn with him. I think it shows.
Favorite memory at Woodstone?
I am hard pressed to pin down just one. There have been so many, many great memories and happenings created here. My warmest times are spent one on one with residents, taking time to listen to their memories, fears, daily life. I love helping them feel better, whether it is physically or emotionally.
What makes Woodstone a great place to work?
For me, it is unlike anywhere else I have worked. We have created a space where residents and families are first, employees are also like family to us, and we all work together and pitch in wherever we are needed. None of us are always just one title. Any of us will serve a meal, scrape a sidewalk, clean up a mess, comfort a resident, deliver boxes, etc. We try to have a staff that is responsible with autonomy and we don't micromanage. We strive to keep it fun and laid back and make our residents feel like it truly is home.
---
At Woodstone, we are so thankful for their kindness, support and compassion during time of uncertainty our residents. All nurses are simply incredible, thank you for everything you do for our community! Thank you to all of the nurses out there who are literally putting their lives on the line for people! We appreciate every single one of you.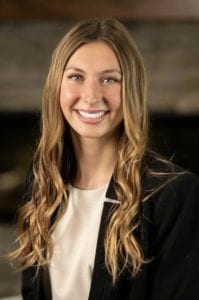 Best,
Danielle Morrow
Marketing Specialist